THANK YOU FOR BEING A PART OF BA19-NY
We had a really positive response from so many of you, and have already started to incorporate your feedback into planning upcoming events in New York and London.  
Collected below are the poll and survey responses you provided during the speaker sessions. There are some great insights here.
If you have any other comments about the day, including topics you'd like to see discussed at future events, please don't hesitate to contact us at info@behavioral-alpha.com.
Breakdown of attendees by role:
I make discretionary investment decisions
31%
I help the people who make discretionary investment decisions
43%
I allocate capital to people who make discretionary investment decisions
13%
My job is none of the above
14%
Your survey comments and poll results by speaker: 
New Perspectives on the Alpha Lifecycle: How Active Managers Can Outperform Their Indexes, Net of Fees
– Chris Woodcock, Head of Product and Research at Essentia Analytics
Hear Chris' presentation and the Q&A that followed:
There are 4 distinct alpha lifecycle patterns. Active managers ARE able to generate / capture alpha if they are aware of these patterns and sell out of winning positions once alpha is generated
Both the endowment effect and the fear of missing out are very strong
Gaining alpha is important but being able to cut your losses so as not to erode alpha creation is more important
Selling decisions too reactive in nature vs proactive buying, which inevitably leads to different quality in the decision-making and thus outcome
You have a longer time to make a decision that you initially expect (50% of episode is the alpha gain)
Alpha generation is hard for active managers. Many wounds are self-inflicted
How to look for sell signals is key. It's OK to sell a winner …opposite of investment mantra
Humans are good at security selection and poor at construction and risk management
An opportunity for alpha still exists
Sell disciplines are not just for losers
Cut my time horizon in half
Understanding biases in your behavior as a portfolio manager and using a systematic approach to correct them can provide a meaningful uplift in alpha
We can do even more with data than we think
Understanding what kind of "profile" you have gives you a serious opportunity to pick up bps. The better you understand your own behavioral tendencies, the more likely you are to be able to use them to your advantage or mitigate them
Larger magnitude moves in the underlyings offer greater alpha generation opportunities
People tend to wait to sell/cover positions until they blow up.
Integrating Behavioral Science into the Investment Process 
– with Brandon Snow (Principal and  CIO, Cambridge Investments), Amy Oldenburg (MD, Morgan Stanley), Tom Tully (Portfolio Manager, Aperture Investors) and Joshua Rand (Panel moderator, Essentia Analytics)
To what extent is your interest in applying behavioral science to the investment process mirrored by others in your firm?
Most of the investment team is interested
28%
Some of the investment team are interested
41%
I'm one of very few members of the investment team who are interested
31%
A willingness to continuously improve is essential for survival in asset management
Computation and information now a commodity
Managing money is the ultimate performance sport
Behavioral sciences are increasingly used in judging a PM's capabilities
Those who are unwilling to understand how they can improve will be left behind
Spend 20% of time reviewing process; have to build reflection (know thyself) into performance lifecycle to balance execution bias (doing)
We need to have humility and leverage behavioral science so we can know ourselves better and improve our processes
The endeavor to determine behavioral biases is helpful internally and externally – at an individual and firm level
Engagement over a period makes the data and advice richer
Investor behavior is something that can be improved with the right mindset and firm buy-in
Allocators are looking at this data
It is essential to be able to look in the mirror and review your process / understand where you can continuously improve
Try to have decision-making done by the person with the intrinsic skill
Learning your own strengths and weaknesses is important
Incentivization is needed to effectuate change
How to get buy-in: Ask them to review their own process, and give them intentional time to reflect on it. Show their strengths, highlight their weakness and provide nudges (to be viewed as indicators) to add some context. Consider a buddy system
Good to see the their willingness to reflect on their own process. The challenge is to break down their people's resistance to doing the same
A "champion" like those on the panel is necessary to get these tools launched in most organizations.
The Power of Habit
– Charles Duhigg, Pulitzer-prize winning journalist and best-selling author on the science of habit and productivity
Hear Charles' presentation and Q&A:
Find habits to regain your control (eg storytelling, visualization, positive recall) and help reposition you to be your personal best
Build baseline stories so you can focus on deviations
LEANING IN: Pause – Turn On – Tune In – What do I see – Feel the Energy
You learn more with positive recall
Habits are good, habits are bad, habits can be programmed
Breaking habits requires changing neural pathways
Create habits by finding the cue and setting a reward
Do not try to break a habit – try to change it
Keeping a daily journal is a "contemplative routine"
5% new information works – 20% information is too much for people
A regular exercise routine has more than just health benefits
A habit that forces us to think is key
In a high-anxiety environment, good habits become unstable
The most powerful rewards contain emotion
For customer complaints, LATTE!
Teams need psychological safety to succeed
Be in the habit of challenging the stories inside your head – cognitive tunnels are dangerous
Situational awareness – visualize your day with specifics.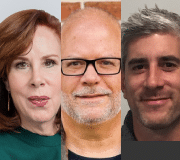 Investment Behavior Clinic
– with Denise Shull (CEO, ReThink Group), Dr. Ken Celiano (Director, Even Keel Trading), Seth Wunder (Principal and PM, black-and-white Capital) and Clare Flynn Levy (Moderator, Essentia Analytics)
We need to understand emotions to understand trading behavior
Getting comfortable with knowing that you cannot know everything will help you build the capacity to better manage uncertainty
It is a myth that traders are OK with uncertainty; the truth is the human brain hates uncertainty and frequent trading is a way of coping with market uncertainties
We need to recognize and talk about emotions – like being uncomfortable with uncertainty. Once it's recognized, it can be neutralised and we become comfortable with it
The importance of case studies and quantitative trade analysis
Turn away from the screen and take a nap, go for run, read a book. Staring at the screen usually leads to action that is suboptimal
Relevant vs irrelevant emotions
Affective forecasting – predicting how I will feel if…
A lot of the work people are doing with investors centers around improving our mindfulness of the emotions and biases that drive our decision-making
The prevalence of self-serving narratives
Take more naps.
Manager Behavior: What Allocators Really Care About
– with Ted Seides (Host, Capital Allocators Podcast), Sara Hakim (Senior VP, Callan), Kevin Hite (Director of Hedge Fund Investments, Willett Advisors) and Brian Portnoy (Moderator, Author and Head of Education at Magnetar Capital) 
Derive "Diversity Alpha" by having a diverse team and empower it. Give them a voice
Some degree of "skin in the game" is addictive to PM effectiveness
The value of cognitively-diverse teams and long-term relationships
Aligned risk tolerance helps
More decisions = more mistakes
Trust is important
Assessment for EQ
Need to evaluate investor psychology prospectively
Thinking behaviorally about allocating.
7 Habits of Highly Effective Investment Teams Habit
– Michael Falk, CFA, CRC, Partner, Focus Consulting Group
Hear Michael's presentation and Q&A:
Collecting data on decisions is like big data – scratching the surface, but we need to do it to continuously improve
Active management is a lot like religion – requires a willful suspension of disbelief
Quantifying methods is crucial
Make the team feel safe to take risks
Create a safe environment to get the best out of your people
Psychological safety & cognitive diversity is imperative for a team to produce optimal decision-making
The brain at rest uses 20% of the body's resources
We can analyze each element of the process for improvement
A policy of forgiveness: If you've followed the process, there's no culpability is the outcome is negative
Create a behavioral checklist where each line is designed to mitigate bias
Selling well is the hardest part. 48 hours to buy more or exit
Most portfolio management teams don't really have a sizing discipline
Use software to vote on decisions to remove conformity bias
Rotate the devil's advocate role
The most senior member of the team should talk last.
There are some interesting media takeaways from the research and discussion seen at the event:
Stay informed about trends and events in the behavioral analysis space